The D'Ambrogio Institute
Kerry D'Ambrogio, D.O.M., A.P., P.T., D.O.-M.T.P., is a physical therapist, osteopath and board certified acupuncture physician. Dr. D'Ambrogio is the author of Positional Release Therapy published by Mosby. His experience and research have been featured as articles in PT/OT magazines and he has been recognized as an industry leader on radio and television talk shows.
Dr. D'Ambrogio started lecturing in 1988 and has taught in over 20 countries worldwide. He is recognized throughout Canada, the United States, Mexico, Brazil, Venezuela, China, Hong Kong, Japan, New Zealand, Australia, the Philippines, South Africa, England, Scotland, Wales, Ireland, Germany, Italy, Norway, and Israel as an exceptional teacher of manual therapy. He is a certified instructor recognized by the International Alliance of Healthcare Educators (IAHE).
His integrative blend of both Eastern and Western medicine, prompted by an initial thorough whole body pre and post treatment evaluation (ARTS), is the key to unlocking perplexing pain issues for patients. This method surpasses the traditional tendency in Western medicine to merely treat the patient's symptoms locally, at the site of pain, instead of searching for the root cause of their complaint.
The seminar series, at the D'Ambrogio Institute, reflects this core philosophy and was developed to train practitioners to perform the full body evaluation (ARTS) and, more importantly, to incorporate the most effective treatments strategies to obtain optimal results for the client. The D'Ambrogio Institute offers the following courses through IAHE:
Evaluation & Integration: Total Body Balancing
Joint Hypomobility: Joint Balancing
Protective Muscle Spasm: Muscle Balancing
Fascial Tension & Scar Tissue: Fascial Balancing
Fluid Stagnation & Swelling: Lymphatic Balancing
Administration / Staff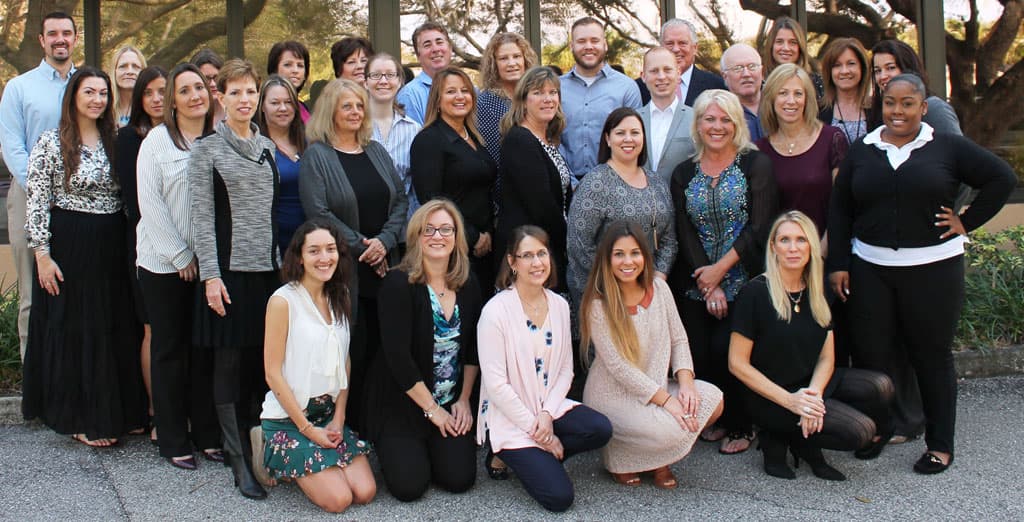 First Row: Erica Merante, Jean Marie Winters, Becky Wilson, Taylor Shear, Dawn Langnes-Shear
Second Row: Jackie Halderman, Kat Perry, Debi Stetson, Kathy Woll, Mysti Newton, Vicki McCabe, Donna Upledger, Brianna Dickson
Third Row: Lincie McGuire, Marina Silva, Elise Dowler, Tammie Nemets, Tara Keller, Alex Jozefyk, Gary Beshel, Terri Feaster
Fourth Row: Justin Vogl, Nancy Saikley, Tory Brush, Stephanie Haas, Cory Reed, Steve Keller, Collen Russell, Zach Meece, Allen Merrell, JoAnn Hambuechen, Vanessa Martinez
Not Pictured: Angie McMenaman, Rebecca Mickley, Michele Metzger, Kristen Bloom, Don Hill, Debbie Silverman, Clinton Trotta